The perfect jeans are the perfect staple in the wardrobe. From day to night, from casual to romantic looks, you can always grab the pair ro suit any style. Today, jeans come in many colours and fits. Not everyone will look good on every colour and fit. Find out the perfect jeans before you add the pair to your shopping list!
Body Figure
Determining your body figure will the the first step to choose your perfect pair of jeans. Tall figure will need different fit from the petite one. Choosing the right fit for your figure will emphasise the best feature and create a balance posture.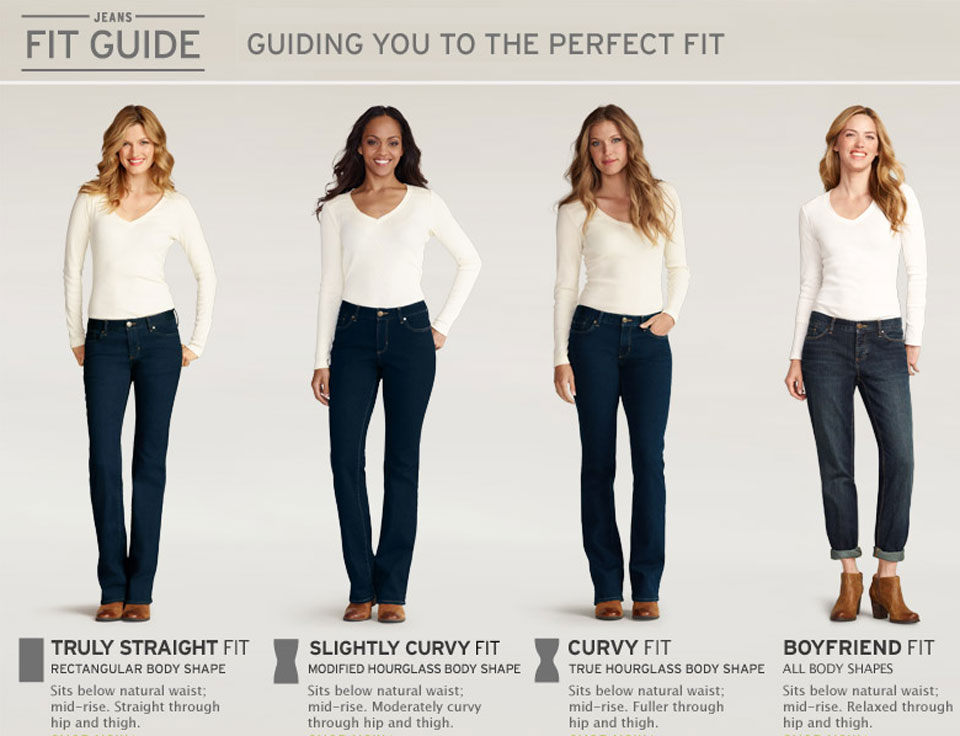 Basically, if you want to slim down your butt, hips and thighs, straight leg boyfriend jeans will minimise this area. You might also want to select a simpler jeans style with minimal rips along with a solid denim wash.
If you have no problem showing off your figure (or you need to create curves on slim hips), then slimmer legs such as straight and skinny jeans should be your option. Oh, and don't forget the extra rips and shreds!
If you're petite or have short legs or have muscular legs, make sure that the hem of the jeans doesn't hit the widest part of your calves because this will widen them and make you look shorter.
If you're on the curvy side opt for simple distress and rips. To look leaner find jeans with vertical rips instead of horizontal which will only widen your body figure. However if you want curves then do the exact opposite.
Jeans Style and Fit
Choosing the right style and fit for your body shape can be a hit and miss. Sometimes, different brands produce slightly different fit measurements for the same style. The best tip is to actually try the pair on before you put your money to invest on good quality jeans.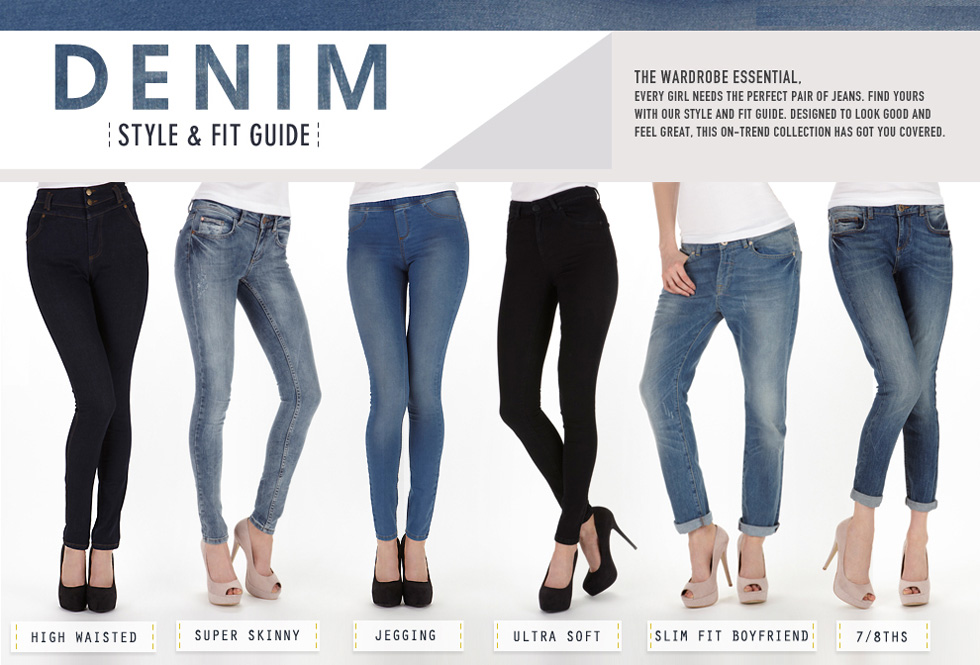 Pant rise is important because it determines where your jeans sit on your body, which in turn creates your perceived waistline. Rise can work for you or against you. On one hand, you can use rise to your advantage by changing your perceived dimensions. On the other hand, choosing the wrong type of rise will make you look disproportional.
Figure-hugging jeggings combine a sleek shape inspired by the fit of skinny jeans with the comfort of leggings. In darker shades they create a super-sculpted silhouette, while brighter pairs are ideal for adding playful colour to your look. Slip on standout heels and a silk shirt with dark-coloured jeggings for instant evening appeal.
A slim style that skims knees and ankles without being as tight in the leg as a jegging, the narrow shape of skinny jeans makes legs look long and lean. Great for lending your denim repertoire extra elegance. Update your skinnies with an oversized sweatshirt for a touch of sports-luxe style.
Make a modern denim statement by slipping into a pair of on-trend boyfriend jeans. At their best when distressed, the perfect pair should be loose fitting and sit low on the hips. Roll the hems and wear them everywhere. Boyfriend jeans are a casual failsafe but they also make a great foil for statement pieces like a bright clutch or metallic heels.
Offering a slimmer fit than a straight-leg but with a little more room than the traditional skinny, our slim leg jeans strike the perfect balance of sleek yet relaxed style. Tuck in an oversized shirt and slip on a pair of sharp heels for 24/7 appeal.